I was not aware how crazy this could get. When I was just a regular old Jane, I was cautious with my e-mail address. I rarely gave it out. My social media accounts were private, and a declined many 'friends.'
Now that I am searching for publicity, I have multiple e-mail accounts, and they are all filled continuously with garbage. I want one article or piece of information, and I get everything but (exaggeration… I love to exaggerate). Sometimes I need to double check if I accidentally hit the SPAM button by accident.
I am continuously unsubscribing, which is a losing battle. I am doing my best to place information in folders which is another losing battle. My e-mails are like Gremlins from the 80s, and I spilled water on them.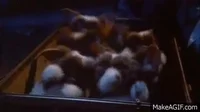 I just hope I don't feed it after midnight, it's bad enough right now.
Maybe once I get this together by not signing up for any silly free products, it will calm down.
Overnight, I received 100 e-mails today. Somebody fed it. Does anybody take off from bothering me? Oh, that's right. Research that I have been reading says you can put your annoying emails on autopilot. Today is a holiday. They are out barbecuing while I am inside cleaning up my mess of an inbox.
Right now I am fine, it is raining outside anyway.
I should be writing and revising my third book to my series, not cleaning out my e-mail accounts. This is very aggravating.
I throw a hissy fit and give up after a while. This really dwarfs my progress and schedule. Believe it or not, I have a bit of a schedule. I try and fit a few hours of writing in the schedule. I know I will not achieve every day of writing now that I have a mailbox filled with over 100 emails per night.
I can blog on a regular basis, but that is more of a complaining platform than a storytelling format. My creativity has been dissipated. I can write the story while I make the coffee in the morning. The moment I check my mailbox, I am spent.
Yes, you are all correct. Write, then check the mailbox later. Better yet, don't bother with the mailbox unless it's a specific day or time on the schedule. Okay, readers, you are right once again.
You always lead me to a better place, and for that I thank you.